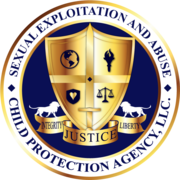 Global World Changers
The Team
Chief Executive Officer
Jessica T. White, M.S
CEO of the Sexual Exploitation and Abuse Child Protection Agency, LLC. Developer of G-SEACPA Jessica T. White, M.S is an award-winning philanthropist, acclaimed Keynote, and TEDx speaker. She brings change globally through her transformational training courses with an empathic approach. Jessica has made it her moral imperative to equip professionals to combat sexual crime against children nationally and internationally. With over serval years in the field working directly with the children, families, and multidisciplinary teams, Jessica is equipped with lived experience. She brings a dynamic teachings style that connects to the heart of her students. Learn more about Jessica's mission for global child protection.
Assistant Chief Administrative Officer
Roger Rosena, M.S
Roger Rosena is an accomplished higher learning educator. Roger's devotion to philanthropy and lived experience as a post-secondary instructor has enabled him to champion students nationally to attain college degrees that have allowed them opportunities to achieve their dreams of leading successful lives. Dedicated to higher learning, Roger has obtained several bachelor's degrees and a Master's of Arts Degree in Philosophy. Roger's leadership has helped cultivate self-awareness, resilience, and tenacity in many lives. Currently, Roger serves on serval organizational broad of directors while attending Syracuse University as a doctoral candidate, where he acts as a professor's assistant. Serving as Vice President of the My Child Protection Foundation Inc., Roger's involvement catapults him forward in his work as a philanthropist providing sexual crime prevention resources to children and families Globally.
Created with